Tuesday, June 29, 2010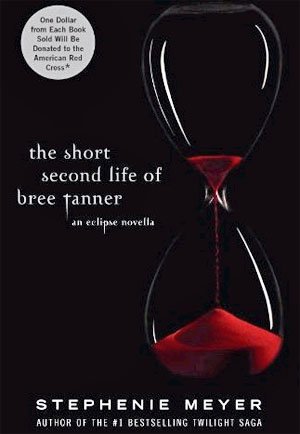 Bree Tanner can barely remember life before she had uncannily powerful senses, superhuman reflexes and unstoppable physical strength. Life before she had a relentless thirst for blood… life before she became a vampire.

All Bree knows is that living with her fellow newborns has few certainties and even fewer rules: watch your back, don't draw attention to yourself and, above all, make it home by sunrise or die. What she doesn't know: her time as an immortal is quickly running out.

Then Bree finds an unexpected friend in Diego, a newborn just as curious as Bree about their mysterious creator, whom they know only as "her". As they come to realize that the newborns are pawns in a game larger than anything they could have imagined, Bree and Diego must choose sides and decide whom to trus. But when everything you know about vampires is based on a lie, how do you find the truth?-
taken from Goodreads
I wasn't planning on review this book. I mean, it's only 178 pages long, and if you've read Eclipse, you know how it ends.
But I think it makes Eclipse so much better. I think a lot of people consider Meyer's vampires wimpy, and in a sense, it's true. But after reading Bree Tanner's story, I no longer think that. Some parts were gory and others were cruel, even.
It gives so much more of a back story that I wish could have been expressed more in Eclipse. I learned things that surprised me!
Now, to the people who have read the whole series but who have forgotten who Bree is (like me), read Bree Tanner anyway. I'll tell you now: She's the one who Carlisle tried to 'rescue', but the Volturi killed her anyway.
I am happy I read this. It makes me proud to be a Twilight fan because let's face it: being a 'Twlighter' isn't the best rep in the world right now. Wasn't the director talking being chased down? Scary.
But Bree Tanner adds a lot to Eclipse in very good ways. It even gives Stephenie some vampire points for actually showing some classic vampires.
The synopsis makes it sound like a romance, but it's not really a romance. It was there, but it's nothing to swoon over.
If you can, read before you go to watch the Eclipse Movie. I might cry when they show Bree dying, because it was nothing but cruelty on the Volturi's part.
Read it. You might think you won't like it, but read it anyway.
Have you read it? Did you like it? Are you excited for the Eclipse Movie?
Or are you grimacing at this Twilight related post? Tell me! 🙂
I'll be going to a Midnight showing of ECLIPSE tonight, so I'll make sure to post some pictures. *If* I take them. I can be terribly shy.
If YOU take pictures when tonight/morning, send then to me! I'll make a post about my thoughts on Eclipse and pictures from around the country! Send them to readergirl321@aol.com
Posted by

WonderGirl12
at Tuesday, June 29, 2010