Sunday, October 24, 2010
I really can't wait to read HUNGER by Jackie Kessler! Haven't heard of it?!
Here: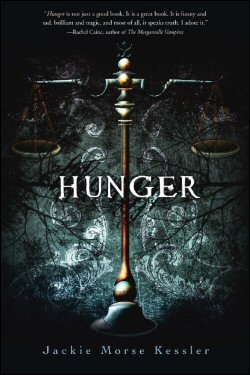 "Thou art the Black Rider. Go thee out unto the world."
Lisabeth Lewis has a black steed, a set of scales, and a new job: she's been appointed Famine. How will an anorexic seventeen-year-old girl from the suburbs fare as one of the Four Horsemen of the Apocalypse?
Traveling the world on her steed gives Lisa freedom from her troubles at home—her constant battle with hunger, and her struggle to hide it from the people who care about her. But being Famine forces her to go places where hunger is a painful part of everyday life, and to face the horrifying effects of her phenomenal power. Can Lisa find a way to harness that power—and the courage to fight her own inner demons?
A wildly original approach to the issue of eating disorders, Hunger is about the struggle to find balance in a world of extremes, and uses fantastic tropes to explore a difficult topic that touches the lives of many teens. -Taken from Amazon
Find blurbs at Jackie's website,
here
!
Awesome, right? Love the cover.
1.- Many of your other books are adult. Did something happen to make you suddenly switch over to YA or did inspiration just hit and the heroine happened to be a teenager?
Got it in one! HUNGER just happened to have a teenage protagonist. I didn't set out to write YA; that's just how the story unfolded.
2.- In Hunger, Lisa finds out she's Famine in the Horsemen of the Apocalypse. Will we get to read/learn about the other horsemen?
Absolutely. But not everything will be in HUNGER. J
3.- If you could dress up as anything you wanted for Halloween, what would it be?
Wilykit from Thundercats. No, wait – Dark Willow!
4.- Oh no! You're at a Hallows Eve Party and at 12am you actually become what you were dressed up as! Who/what would you be dressed up as?
Zoe from Firefly. (Not from Serenity!!!)
5.- What's next in your writing career?
Right now, I'm all about the Riders' Quartet: RAGE, the second book, will come out in spring 2011, and I'm currently writing LOSS, the third book.
WINNER:
Heather from Buried in Books! Send me your addy to readergirl321@aol.com
Awesome swag headed your way! 🙂
Posted by

WonderGirl12
at Sunday, October 24, 2010