Sunday, June 13, 2010
It is time.
Ultimate Summer ARC Contest is now underway!
First off, let me show you the PRIZES: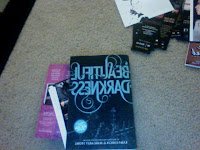 PRIZE ONE: CLOCKWORK ANGEL ARC with Vlad Tod Bag and swag.
PRIZE TWO: CLOCKWORK ANGEL ARC with Ghostgirl Bag and swag.
PRIZE THREE: BEAUTIFUL DARKNESS with swag.
For PRIZE ONE and TWO you must create a video showing/explaining to me what you would do for a Clockwork Angel ARC.
To submit videos send them here: readergirl321@aol.com
You must have name you want to be recognized as and email in entry. If you do not want your video posted, tell me, because I'll post winners and honorable mentions. Anything goes! Sing, dance, etc. ANYTHING. (Nothing graphic.)
For PRIZE THREE, I will use the point system:
+5 For Becoming a Follower
+3 For Already Being a Follower
+5 for making a blog POST for this contest
+10 for telling me why you want Beautiful Darkness
+2 for adding email
Add up points in the comments! And please give me the total points.
Contest is for everyone, everywhere! 😉
Contest ends June 25th!
So. What would YOU do for Clockwork Angel? 😉
Posted by

WonderGirl12
at 8:20 PM