Wednesday, September 1, 2010
This post it written by (as Kim would say)
The Other One
!
Before I say anything, can you believe it is ALREADY September?
By the time this post is up, it'll be the first day of school for me. All those relaxing summer days? THEY'RE GONE…the bright side is, today is Wednesday, which means school starts at 9. More sleep? Heck yes. *happy dances*
And there's always those pesky rumors about your new teachers. Sometimes, they turn out true, and other times, they don't. First days aren't usually "first days," just teacher introductions. Gah, I wish I had one more week…Please cross your fingers for me to have a very good first day! In case you are wondering, I'm going into my sophomore year of high school…
When school starts, I always say to myself, "Hey, at least you'll have more books to read!" And it's true! For today, I'm going to give away a SIGNED ARC of NIGHTSHADE–something for all of you guys going back to school to look forward too. It is a wonderful, wonderful book. Expect the review to come this month…and a trailer… ;D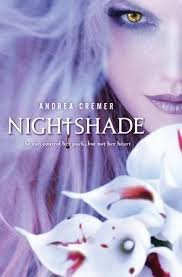 To enter, just comment on this post with a short paragraph on the funniest thing that happened during this summer. If we get enough entries, I will pick from the funniest. If not, randomizer FTW. If our contest is THAT lonely, we'll just open this up to extra entries…let's see how it goes 😉 I'll leave this contest up until the end of the B2B special. Ends 09/13 midnight, California time
FUN!
Posted by

WonderGirl12
at Wednesday, September 01, 2010